Weekly Simplicity Tips
Welcome to this week's issue of Weekly Simplicity Tips. If you are just getting started with the Declutter Calendar, don't forget to see the short video I have here on how to use it. And take a look at the helpful comments from other people that are using the calendar.
https://www.mysimplerlife.com/how-to-use-the-declutter-calendar-2
It was actually warm enough this week here in Michigan to walk around the wetlands (actually frozen lands right now).
Before it snowed a foot.
(My backyard. Both pictures from Brea Dargis.)
If you don't know how old your spices are, a reader sent me this helpful website:
http://mccormick.com/spices101/howoldspices.aspx
Create or update your home inventory.
Schedule any doctor, vet or other appointments. The sooner you schedule, the better time slot you can get.
Have a tote bag for library books to keep them together.
Scrapbook or organize holiday photos.
Review your insurance policies.
Archive or get rid of old files from this year.
Make one step towards one of your goals.
Solutions
Declutter Calendar
I am so excited – the Declutter Calendar is now a real calendar! People have asked to have a calendar they can hang in their kitchen and now it's here:
THE
LOVELY
DECLUTTER
CALENDAR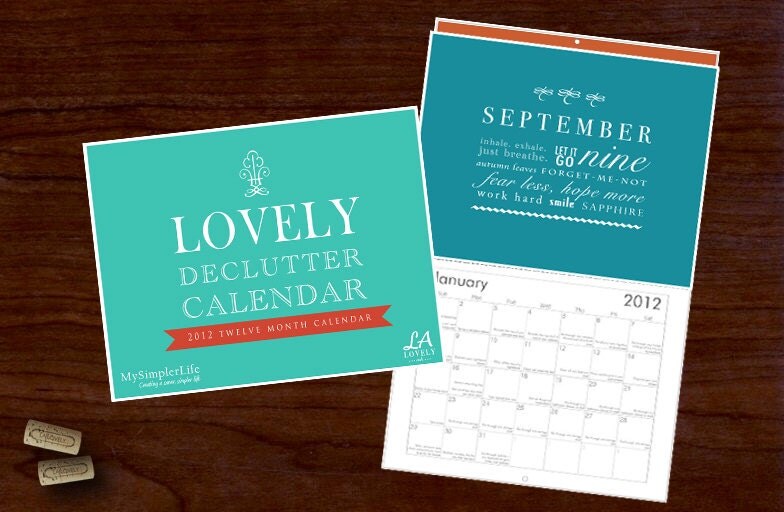 NOW AVAILABLE FOR ORDERING.
Make 2012 the best year yet and be more organized than ever before
with this day-by-day guide to decluttering your life! Order here: http://www.lalovelyink.com/Lovely_Declutter_Calenda.html
ONLY
$24.00
with FREE SHIPPING!
This calendar is brought to you by My Simpler Life & La Lovely Ink.
***