Weekly Simplicity Tips
Welcome to this week's issue of Weekly Simplicity Tips. I'm very excited – the Declutter Group starts tonight. I have a few more spots open if you want to join. People have already started decluttering from the forum encouragement.
I had someone unsubscribe because they said they couldn't see the pictures in this email. If you are in gmail what you do is look above the email to the blue text that says "Always display images from". Click that and you'll be able to see the pictures.
Get a shredder or empty out your shredder (thanks, reader Bonnie!)
Clean off your computer desktop.
How are you doing on the taxes?
Slow down and have a real, cup of hot cocoa.
Give your bedroom some romantic touches.
If those plastic cups get lost in your cabinet. Try putting them in a long basket and place it so it takes up the least amount of room.
Connect with a friend or family member.
Solutions
Declutter Calendar
I am so excited – the Declutter Calendar is now a real calendar! People have asked to have a calendar they can hang in their kitchen and now it's here. They will only be available until February.
THE
LOVELY
DECLUTTER
CALENDAR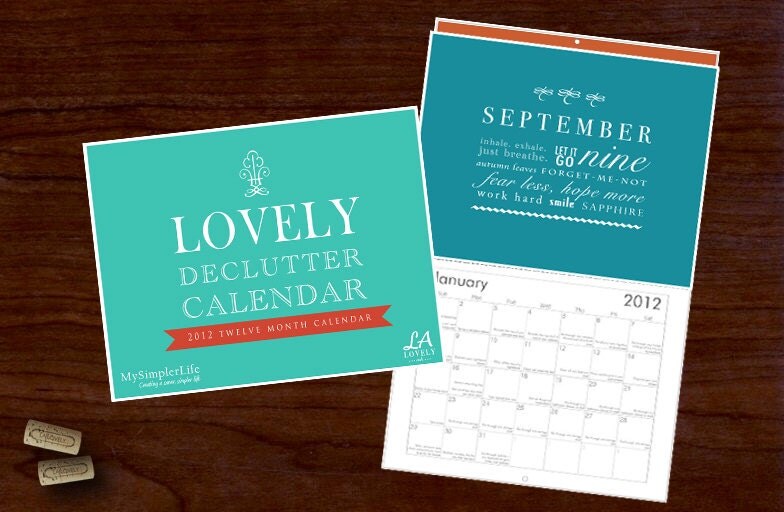 NOW AVAILABLE FOR ORDERING.
Make 2012 the best year yet and be more organized than ever before
with this day-by-day guide to decluttering your life! Order here: http://www.lalovelyink.com/Lovely_Declutter_Calenda.html
ONLY
$24.00
with FREE SHIPPING!
This calendar is brought to you by My Simpler Life & La Lovely Ink.
***