Weekly Simplicity Tips
Welcome to this week's Weekly Simplicity Tips. This weekend we spent time with our nephew before he went off to Marine bootcamp. Stay safe! And I also got to play with my 1 1/2 year old niece who is growing cuter by the minute.
We found out that Superbowl Sunday is a great time to eat out as long as there aren't any big TVs. We had the restaurant mainly to ourselves.
Spiritual renewal – does your spiritual life need more time?
Where can you create a time for deep rest this week?
Do a couple declutter calendar areas you missed.
Plan for your spring holidays.
Look for the joys in today
What is your body saying to you right now?
Set a boundary in your life that will help you simplify.
Solutions
Declutter Calendar
I am so excited – the Declutter Calendar is now a real calendar! People have asked to have a calendar they can hang in their kitchen and now it's here. TMy distributer says we can have it keep selling till Valentine's Day now. Yea 🙂
THE
LOVELY
DECLUTTER
CALENDAR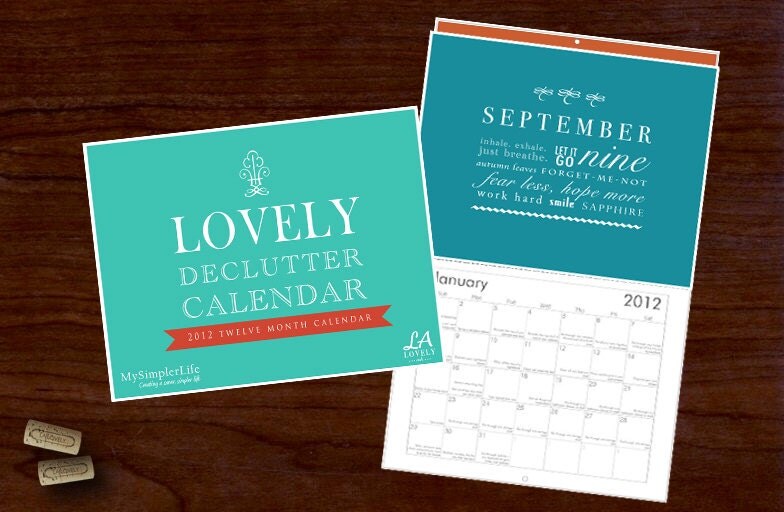 NOW AVAILABLE FOR ORDERING.
Make 2012 the best year yet and be more organized than ever before
with this day-by-day guide to decluttering your life! Order here: http://www.lalovelyink.com/Lovely_Declutter_Calenda.html
ONLY
$24.00
with FREE SHIPPING!
This calendar is brought to you by My Simpler Life & La Lovely Ink.